Discussion Starter
·
#1
·
I wanted to install the cup holder version of the center console that is between the seats as I only had the basic tray center console here.
Nissan quoted me in excess of £500 for supply and fitting and a minimum wait of four weeks for parts as apparently most had to come from Spain.
So I had been scouring eBay every day for a couple of months with no success until through another part I found a Nissan specialist breaker that had the console in stock for a fraction of the cost of Nissan's quote.
Thankfully removing the old console and fitting the new one was very simple.
There were only two bolts to be removed on the old console. These were at the rear as can been seen in 2nd and 3rd images.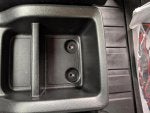 Once these were removed all that is them required is to lift the tray from the rear and gently pull up and away from the join at the front of the piece as can be seen in image 4.
The rear main part of the console now removed completely.
The new console was attached with four bolts. Two at the front and two at the rear. The door of the console needs to be removed before installing to give access to the front bolt holes. This is easy to do as it just requires two screws to be removed.
Front bolt holes with screw holes for console door.
Rear bolt holes
Once all four bolts are in place you can attached the door.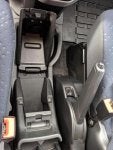 I now have hidden storage in the middle of the console and two additional cup holders that are available to the second row of seats.
Not the most detailed guide, but hopefully of use to someone.